The Beatles in the pages of MAD Magazine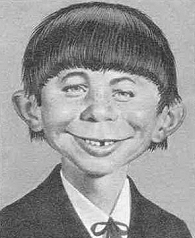 As a Mad fan and a Beatles fan I thought it would be fun to bring the two loves together on this page. Here is an extensive listing of the major articles and accidental observations as I catch them.
NOTE: Mad made plenty of references to individual members.
This list attempts to highlight them when they were Beatles.

#88 July 1964
LETTERS
WMCA-New York radio representative shares Alfred E. Beatle image from its "put a Beatle wig on anyone" contest.

#88 July 1964
FOLD-IN
"The only hope for curing 'Beatle-mania!'"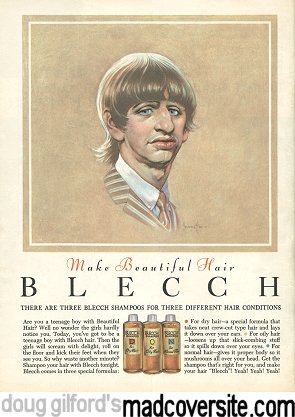 #90 October 1964
STRANGE INTERLUDES IN EVERYDAY LIFE
SUBTITLE -- A Strange Interlude With A Babysitter
The babysitter is holding a Beatles album.

#90 October 1964
MAD "CELEBRITY-FEATURE" MERCHANDISING GIMMICKS
With the success of the Beatle wig, other stars could promote their own lines of wearables.

#90 October 1964
MAD'S TEENAGE IDOL PROMOTER OF THE YEAR
Busts of the four sit in the hall of fame.

#90 October 1964
BACK COVER AD PARODY
Ringo sits in for the beautiful Blecch girl.

#91 December 1964
A CELEBRITY'S WALLET
The contents of Ringo's wallet exposed!

MAD Follies #2 - 1964 Annual
BONUS 1965 CALENDAR
Large Mort Drucker collage contains The Beatles with Elvis.

#92 January 1965
LETTERS
Readers spot character reading Son of Mad paperback in the film A Hard Day's Night.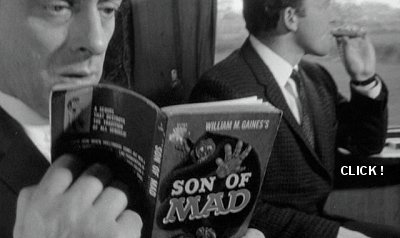 #92 January 1965
SHAKESPEARE UP-TO-DATE
SUBTITLE -- Shakespeare on the Beatles
Viewers watching The Beatles on TV quote Shakespeare.

#93 March 1965
I GOT ALL THE FINKS I NEED
"A fink is a dog who chews up your Beatles Magazine instead of your father's new shoes."

#93 March 1965
SPACE MAGAZINES
SUBTITLE -- Space Show Business
"Exclusive: The Beatles' New Song Hit: 'It Loves Me, Yeah, Yeah, Yeah!'"

#93 March 1965
THE FLYING ACE
"...the kind of movie Hollywood used to turn out years ago.
A movie with guts!" starring the unnamed Beatles.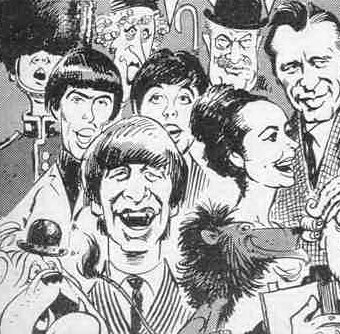 #94 April 1965
007: THE JAMES BOMB MUSICAL
The Beatles join other prominent British Isles luminaries to sing a finale.

#95 June 1965
LETTERS
Readers love The Flying Ace movie from #93 which starred The Beatles.

#96 July 1965
LETTERS
Reader points out simmilarity of circulating photo of Ringo with his wife to Celebrity Wallet article picture from #91.

#96 July 1965
MAD'S SEED & GARDEN CATALOG
SUBTITLE -- Garden Proven Hybrid Roses
"The Ringo Starr - This immensely popular variety is actually a wild plant that has been domesticated.
Unlike other types, thrives best when scraggly and undernourished. Caution: Should not be trimmed."

#101 Mar 1966
WHEN TEENAGERS TAKE OVER TV COMPLETELY
A Beatle (possibly John or George) gives an evening sermonette.

#104 July 1966
MAD VISITS THE AMERICAN MEDIOCRITY ACADEMY
Interview starts with Academy Director claiming Ringo Starr is "Natural Mediocrity"
and has a bust of Starr in his office.

#104 July 1966
LOUSED UP IN SPACE
A Ringo space creature hops around, saying "Yea Yea Yea."

#106 October 1966
THE LIGHTER SIDE OF MUSIC LOVERS
Wannabe rock band members want to use the same director The Beatles used for their film, have planned their success all out, just have to learn to play their instruments.
Later in the same article, classical music connoisseurs are surprised to learn the music they're listening to is The Boston Pops rendition of I Want To Hold Your Hand.

#107 December 1966
A MAD PORTFOLIO OF FOTOS THAT COMPARE
THE SAVAGE SOCIETY & THE GREAT SOCIETY
Savage haircut equals Ringo haircut.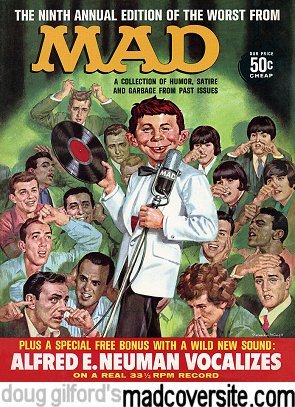 The Worst From Mad #9 - 1966 Annual
COVER
The Beatles join other musical personalities in opposition to Alfred E. Neuman singing.

#108 January 1967
THE $OUND OF MONEY
A Beatles poster hangs on the convent courtyard wall.

#109 March 1967
ADVERTISING ENDORSEMENTS WE'LL PROBABLY NEVER GET TO SEE
A photo of John Lennon is captioned "American Bible Society."

#111 June 1967
COMIC STRIP HEROES TAKEN FROM REAL LIFE
SUBTITLE -- Barbra, The Belter
Sitting across from one another at a table having tea, Barbra Streisand tells Ringo, "I'd love teaming up with you, Ringo, but I have a feeling the Public might not be able to tell us apart!"

#111 June 1967
FANTASTIC VOYAGES BASED ON EVERYDAY EXPERIENCES
SUBTITLE -- The Pay-Phone Avengers
Ringo Starr is listed on the movie poster.

#112 July 1967
THE TEN COMMANDMENTS - REVISITED
A photo of The Beatles performing in front of adoring fans is captioned "Thou Shalt Have No Other Gods Before Me."

#118 April 1968
MAD VALENTINES TO CELEBRITIES
"Your 'Sergeant Pepper' is a smash;
  Your loyal fans defend it;
We've even heard a few of them
  Maintain they comprehend it;
We know you guys would like to build
  Good will between our nations;
So next time won't you please provide
  American translations?"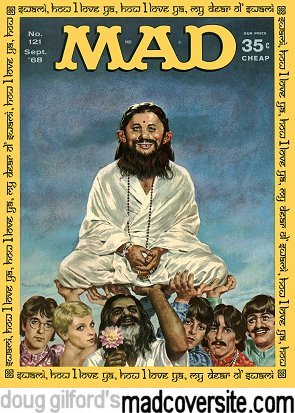 #121 September 1968
COVER
Norman Mingo's painting depicts The Beatles during their 1968 trip to India with Mia Farrow and Maharishi Mahesh Yogi elevating the truly transcendent Alfred.

#121 September 1968
SIK-TEEN MAGAZINE INSIDE FRONT COVER
"Ringo Gringo's Eye - Number 16 in a series of 25."

#122 October 1968
MAD'S UPDATED COMIC STRIP HEROES
Ringo as Prince Valiant

#124 January 1969
IF POLLS AND SURVEYS HAD BEEN USED THROUGH HISTORY
Results of a poll of adults suggests The Beatles should "give up the idea of making it big in Show Biz!"

#127 June 1969
THE LIGHTER SIDE OF THE GENERATION GAP
A teenage girl throws away her Beatles record when Mom says she likes it.

#127 June 1969
BULLBIT
Steve McQueen holds a book with Charlie Brown on the cover entitled "Happiness is a Warm Gun."

#133 March 1970
A MAD LOOK AT CELEBRITIES IN REAL-LIFE SITUATIONS
"Mr. & Mrs. John Lennon" pose nude for passport photos.

#134 April 1970
MAD'S UP-DATED MODERN DAY MOTHER GOOSE
SUBTITLE -- Ringo, Paul, George & John
"Ringo, Paul, George and John
Played a trick and put us on;
Dropped hints Paul was dead as nails--
And rocketed their record sales!"
Special #1 Fall 1970
THE SOUND OF MORE MUSIC
John Lennon, wearing a Groucho Marx mustache, stands with Jimi Hendrix, Tiny Tim, and Janis Joplin. There's also a small nude of John and Yoko's backsides mixed in.

#140 January 1971
COVER
Alfred E. Patton has a "Let It Be" medal pinned on his uniform.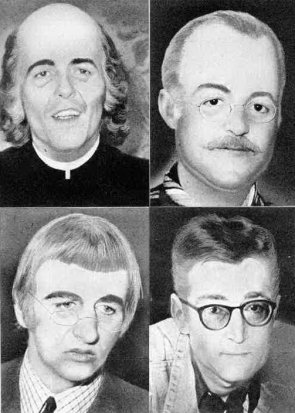 #142 April 1971
MAD'S MODERN BELIEVE IT OR NUTS!
John Lennon & Yoko Ono never posed nude for that album cover!!

#142 April 1971
WHAT IS A PARENT?
Mom screams at guitar-playing boy with Beatles poster on his bedroom wall.

#166 April 1974
AMERICAN CONFETTI
Just before "Squirt" takes off in the plane, he spots the Ford Thunderbird and runs to meet the mysterious blonde of his dreams, only to find it's Ringo.

#174 April 1975
MORE "MODERN" FAIRY TALES
SUBTITLE -- The Generous Minstrels
The group re-forms and gives free concerts around the world.

#174 April 1975
THE TOMMY-RED SEED
Fedup Swearedlove confuses Vladimir Lenin for one of The Beatles.

#185 September 1976
WHATEVER BECAME OF... ?
Aged-touched photos of the Beatles with descriptions of what they're doing in 1996.

Special #18 Summer 1976
A PORTFOLIO OF MAD GOOD NEWS-BAD NEWS PHOTO SILHOUETTES
Beatles = Good News / Mormon Tabernacle Choir = Bad News

Special #25 Fall 1978
DON MARTIN 'ROCK MUSIC' POSTERS - BONUS
The Beatles get their own poster complete with drumstick in Ringo's nose.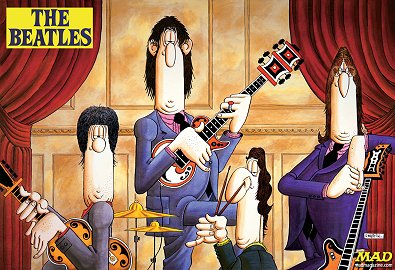 #214 April 1980
"NECROMANIA AGENT" OF THE YEAR
Conversation comes around to Beatlemania "...doing The Beatles before they're dead!!"

#218 October 1980
WKRAP IN CINCINATTI
DJ Doctor Johnny Frantic: "I got too many heavy things to ponder! Like God, the Universe, and will the Beatles ever get together?!"

Special #40 Fall 1982
ADVERTISING COVER
Ringo's Blecch girl from #90 gets promoted to a front cover.

#254 April 1985
COVER
Paul McCartney named on the cover.

#254 April 1985
BOYS JUST WANNA BE GEORGE
Boy George Harrison mash-up.

#254 April 1985
THE EXPLOITATION OF A ROCK DEATH
Paul McCartney and others release tribute material for a dead rock star.

#262 April 1986
BADLY NEEDED WARNING LABELS FOR ROCK ALBUMS
On the Sgt. Pepper's Lonely Hearts Club Band album:
"Warning: Contains good music and intelligent lyrics. As such, it may be unsuitable for today's listeners."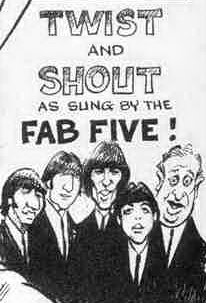 #268 January 1987
FEARLESS BULLER'S DAY OFF
Bedroom poster "Twist and Shout with the Fab Five!" shows Rodney Dangerfield as one of The Beatles.

#269 March 1987
MAD CHARTS
SUBTITLE -- Top 10 Violent Songs
"#8 - Twist and Shoot - The Beatings"

#281 September 1988
A MAD LOOK AT GARAGE SALES
Boy scores Beatles records at questionable sale.

#282 October 1988
HOT ALBUMS OF THE 1990'S... A LOOK BACK
The Beatles Plaid Album is re-released by Ted Turner's colorizing great-grandson.

#286 April 1989
IF BAD TASTE TOOK A HOLIDAY
"Apologizing for their 'bad lapse in judgment,' sheet music publishers recall and burn all marching band arrangements of 'Yesterday'..."

#286 April 1989
WHEN TV COMMERCIALS MAKE FULL USE OF THE BEATLES SONGS
In reality, Nike used Revolution. In Mad reality, Di-Gel uses Michelle, Ban Roll-On uses I Want to Hold Your Hand, Chevrolet uses Yesterday, Blue Cross uses And I Love Her, and Bud Light uses A Hard Day's Night.

#293 March 1990
"PAST THE PRIME OF THEIR LIFE"
Paul McCartney and Ringo Starr join other aging rockers trying "to make one final score."

#299 December 1990
Fold-In
"What musical group has surpassed the achievements of The Beatles?"

#306 October 1991
THE STARTLING SIMMILARITIES BETWEEN ANCIENCT MYTHOLOGY & MODERN ROCK
John Lennon biographer, Albert Goldman, is compared to Orpheus.

MAD-TV Special January 1995
GUMP FICTION
John Lennon is among the many people and things, in the article's bottom border, shot by a single bullet from Quentin Tarantino's gun.

#333 January-February 1995
THE PRE-NUPTIAL AGREEMENT OF MICHAEL JACKSON AND LISA MARIE PRESLEY
Reference is made to Jackson owning the copyrights to every song ever written.
A copy of the Meet The Beatles album sits at the bottom of the article.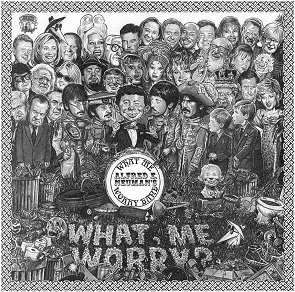 #345 May 1996
MAD'S BEATLES SONGBOOK
After an introductory Drew Friedman page showing an updated Sgt. Pepper's Lonely Hearts Club Band album cover, we get "Gambling" sung to the tune of Something, "Internet" sung to the tune of Yesterday, "Hey, Newt" sung to the tune of Hey, Jude, "Talk-Show Fan" sung to the tune of Nowhere Man, and "The Royal Family" sung to the tune of Yellow Submarine.

#345 May 1996
THE DEVIL'S ADVOCATE - THE MONTHLY NEWSLETTER FOR SATAN WORSHIPPERS
SUBTITLE -- Devil's Music Review
Charles Manson reviews The Beatles' Free As A Bird.

#355 March 1997
EVEN STILL MORE BADLY NEEDED WARNING LABELS FOR ROCK ALBUMS
On The Beatles Anthology album:
"Danger: This collection contains music even Ringo didn't think was good enough to release originally!"

#356 April 1997
THE 60'S AND THE 90'S
Contrast the 60's British Invasion (represented by The Beatles) to the 90's Illegal Alien Invasion.

#360 August 1997
LETTERS
The editors apologize for offending Beatles fans with #355's Ringo reference by publishing the locations for Ringo's 1997 tour.

Pop Off Video Special May 1998
RAPPERS' DELIGHT
SUBTITLE -- Snoop Doggy Dogg - Who Am I?
"The rooftop scene is reminiscent of The Beatles in Let It Be.
That is, if The Beatles were singing about shootin' niggaz and bangin' ho's."

#373 September 1998
GINGER SPICE'S FAREWELL LETTER
Last sentence: "It's like the end of The Beatles... if every Beatle had been Ringo."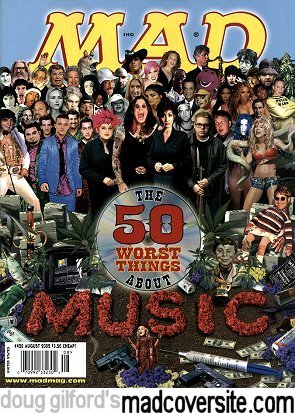 #387 November 1999
MAD REGURGITATES THE 20TH CENTURY
1960-69: Bob Dylan, The Beatles and Woodstock play their parts in the "tremendous social upheaval" of the time.

#400 December 2000
THE UNTOLD HISTORY OF MAD MAGAZINE
In 1968, Bill Gaines carries on an affair with Yoko Ono, scarily simmilar to the one she had with John Lennon, complete with that notorious nude photo.

#404 April 2001
THE WORST SELLING BOX SETS OF ALL TIME
SUBTITLE -- The Beatles Anthology, Volume 14b
"...unlistenable throwaways for fans who still haven't gotten over the break-up."

#420 August 2002
COVER
Artist Scott Bricher uses the 1967 Sgt. Pepper's Lonely Hearts Club Band album cover to promote the article inside called The 50 Worst Things About Music.

#423 November 2002
THE MAD 50TH ANNIVERSARY TIMELINE 1952-2002
1997: "Mad is featured in Howard Stern's movie, Private Parts, continuing the magazine's long history of film appearances dating back to The Beatles' A Hard Day's Night."

Mad Presents The Whitest Kids U'Know February 2008
The Mark Fredrickson cover of this advertising promotion depicts the comedy troupe doing their best
Abbey Road album cover with a surprise Alfred E. Neuman appearance.

#501 October 2009
THE FUNDALINI PAGES - SUTTON FOR PUNISHMENT
Frustrated Paul McCartney tosses the Rock Band video game guitar he's trying to play.

#548 December 2017
THE GAP_TOOTHED GALLERY
Klaus Voormann's Alfred sketch is reminiscent of his work on the cover of Revolver.

#549 February 2018
INTRODUCTION PAGE - THE MAD 20 DUMBEST PEOPLE, EVENTS AND THINGS OF 2017
Artist Scott Bricher crowds the scene like the 1967 Sgt. Pepper's Lonely Hearts Club Band album cover
(the 20th anniversary of this annual feature).

And I'm sure there're more!!!!

Sample quotes and art are copyright E.C. Publications and Mad Magazine.