These were longer articles in the form of a single subject, usually complete with covers -
essentially, multi-page advertising or information sources.

The too-numerous-to-mention single-page advertising parodies are beginning to be mentioned here.
Single-page ads that weren't parodies are too numerous to mention.

See the separate page for Magazines within Mad Magazine!


ARTICLE TITLE
WRITER / ARTIST
ISSUE / DATE
Bulletin of Alfred E. Neuman University 1958-59
Tom Koch / Joe Orlando
42 - Nov 1958
The American Mad Cross - First Aid Handbook
Frank Jacobs / Wally Wood
47 - Jun 1959
Mad Looks at Adult Education
featuring Potrzebie High School Bulletin of Courses Available
Paul Laikin / George Woodbridge
51 - Dec 1959
The European Tourist's Guide to the U.S.
Frank Jacobs / Joe Orlando
60 - Jan 1961
Mad's Do-It-Yourself Auto Repair Manual
Dave Berg
61 - Mar 1961
Mail Order Gift Catalogues - featuring Potrzebie House
Al Jaffee / Bob Clarke
62 - Apr 1961
Practical Scout Handbook
Larry Siegel / Jack Rickard
66 - Oct 1961
Mad's Seed and Garden Catalog
Frank Jacobs / Bob Clarke
96 - Jul 1965
College Programs to Develop Masters of Mediocrity -
featuring Megalopolis State University College of Disillusion's
Catalogue of Courses - Fall Semester 1966
Donald D. Shandler / Paul Coker, Jr.
101 - Mar 1966
The House of Krudd - Mail Order Gift Catalogue
Tom Koch / Bob Clarke
155 - Dec 1972
American Trash and Trivia Company's
Head Shop Supplies - Wholesale Catalogue
Tom Koch / Bob Clarke
158 - Apr 1973
Ghoulish Medical Corp. 1974 Hospital Supply Catalogue
Tom Koch / Bob Clarke
170 - Oct 1974
Annual Reports to Family Members -
The Flaxbender Family - Annual Financial Report 1974
Tom Koch / Irving Schild (photos)
173 - Mar 1975
The Mad Handbook of House-Guesting
Paul Peter Porges / Jack Davis
176 - Jul 1975
Ripoff Cafe Accessories, Inc. Restaurant Supply Catalogue
Tom Koch / Bob Clarke
180 - Jan 1976
The Alfred E. Neuman University
Competitive Hard-Sell 1976 Catalogue
Frank Jacobs / Bob Clarke
David Reagan (idea)/ Irving Schild (photos)
181 - Mar 1976
The Mad Clearance Catalogue of Unwanted
Articles, Features, Gimmicks, and Premises
Frank Jacobs / Jack Rickard
(and others if Rickard didn't draw them all)
188 - Jan 1977
School Supplies Unlimited 1978-79 Wholesale Catalogue
Tom Koch / Bob Clarke
198 - Apr 1978
American Recreational & Resort Facilities, Inc.
Wholesale Supply Catalogue
Tom Koch / Bob Clarke
202 - Oct 1978
A Preview of this Year's "Gimmick" Christmas Gifts
featuring TRASH, Inc.'s Christmas 1978 Wholesale Gift Guide
Tom Koch / Bob Clarke
204 - Jan 1979
Crafty Bunko Schemes, Inc.
1979-80 Repairmen's Parts & Supply Catalogue
Tom Koch / Bob Clarke
208 - Jul 1979
Amalgamated Student Supply Co. - Mail Order Catalogue
Tom Koch / Bob Clarke
Diane Riccobene (idea)
220 - Jan 1981
Stadium & Team Owners' Paraphenalia, Inc.
1981 Supply Catalogue
Tom Koch / Bob Clarke
226 - Oct 1981
Mad's Updated Practical Joke Catalog
Al Jaffee
Diane Riccobene (idea)
233 - Sep 1982
State College of Adulthood Training Catalogue of Courses
Tom Koch / George Woodbridge
240 - Jul 1983
The Mad School of Parenting Catalogue of Courses
Stan Hart / George Woodbridge
243 - Dec 1983
The 1984 M.G.M. Movie Theatre Owners Supply Catalogue
Tom Koch / Bob Clarke
245 - Mar 1984
M.O.B. (Mafia Outlet Bureau) Shop-By-Mail Catalogue
Frank Jacobs / Bob Clarke
247 - Jun 1984
Mad's Practical Joke Catalogue For Doctors
Beppe Sabatini / Al Jaffee
248 - Jul 1984
The Sham-Jock Sporting Goods Catalogue
Frank Jacobs / Bob Clarke
James Kasmir (idea)
249 - Sep 1984
Mad's Practical Joke Catalogue for Courtrooms
Desmond Devlin / Al Jaffee
267 - Dec 1986
The Defense Contractors' Clearinghouse Catalog
John Rios / Bob Clarke
267 - Dec 1986
The Mad Merchandise Mart
Dick DeBartolo / Bob Clarke
275 - Dec 1987
Gift Catalog for Spoiled Rotten Pets
Paul Peter Porges
282 - Oct 1988
Toys "R" U Catalogue
Charlie Kadau and Joe Raiola /
George Woodbridge / Irving Schild (photos)
285 - Mar 1989
The Rookstone Catalog of Really Useful Tools, Nifty
Gadgets, Hi-Tech Thingamajigs and Crafty Geegaws
Al Jaffee
289 - Sep 1989
Mad's Catalogue of Practical Joke Items for the Computer
Dick DeBartolo / Al Jaffee
Seth Greenberg (idea)
292 - Jan 1990
Leisure Time Courses Adults Really Need - featuring the
South Dakota College of Higher Learning at East Pierre
Adult Department of Continuing Education Course Catalogue
Winter 1990-91
Tom Koch / George Woodbridge
296 - Jul 1990
The Obnoxious Sports Fan's Supply Catalogue
Tom Koch / Jack Davis
298 - Oct 1990
Mad's Avalanche O' Catalogs
Charlie Kadau and Joe Raiola /
George Woodbridge
316 - Jan 1993
The National Pick-Your-Own Relatives Clearing House Catalogue
Charlie Kadau, Joe Raiola,
Dan Birtcher /George Woodbridge
318 - Apr 1993
RIP 2000 Suicide Machine Owners Manual
Charlie Kadau / Bob Clarke
321 - Sep 1993
The Belching Dragon Menu
Charlie Kadau and Joe Raiola /
George Woodbridge
322 - Oct 1993
Medical Trappings & Vestments, Inc. - Doctors' Supply Catalogue
Tom Koch / Al Jaffee
324 - Jan 1994
Marblerow Gear
Dick DeBartolo / Greg Theakston
338 - Aug 1995
The Academy for the Radical Religious Right Course Catalogue
Stan Hart / Drew Friedman
339 - Sep 1995
Pat the Candidate (children's book)
David Shayne / Sam Viviano
346 - Jun 1996
The Victim's Newsletter
Charlie Kadau / George Woodbridge
352 - Dec 1996
The Bad Cops Guide to Good Police Work
Andrew J. Schwartzberg / George Woodbridge
356 - Apr 1997
Ikrappa Catalogue
Scott Maiko / Albert Crudo (photos)
360 - Aug 1997
Merely 99¢ Store Circular
Scott Maiko / Bob Clarke
371 - Jul 1998
The Official Titanic Oriented Artifacts & Stuff Catalog
Dick DeBartolo / Timothy Shamey
372 - Aug 1998
Hallmock 1998 Holiday Catalog
Scott Maiko / Scott Bricher
376 - Dec 1998
Slam's End - The Catalog of Pro Wrestling Merchandise
Desmond Devlin / Angelo Torres
378 - Feb 1999
Steve Grieve's Official Catalog of Rare,
Unaffordable Rock & Roll Memorabilia
David Shayne and Joe Raiola /
Timothy Shamey
380 - Apr 1999
Jalopy Shopper -- Your Totaled Transportation Tabloid
Jeff Kruse / Irving Schild (photos)
382 - Jun 1999
Omahog Steaks - Meats By Mail
David Shayne and Joe Raiola /
James Warhola
383 - Jul 1999
Warner Bros. Studio Stores - Unofficial Catalog
Scott Maiko / Scott Bricher,
Gary Hallgren, Anthony Cipriano,
Kevin Greene / Irving Schild (photos)
385 - Sep 1999
The Spending Annex Adult Education Center
Scott Maiko / Irving Schild (photos)
388 - Dec 1999
The Spending Annex Adult Education Center
Scott Maiko / Irving Schild (photos)
392 - Apr 2000
Sports Suction Catalog
Jeff Kruse / Timothy Shamey
395 - Jul 2000
Johnson Family Garage Sale-O-Rama Catalog
Danno Sullivan / Leslie Sternbergh
396 - Aug 2000
Mad's Modern Military Course Catalog
Mike Snider and Andrew J. Schwartzberg /
George Woodbridge
397 - Sep 2000
The Shoddier Image
Brian Farrelly and Sean Farrelly /
Irving Schild (photos)
408 - Aug 2001
The Pet Peddler - Your One-Stop Source for
Adopting the Animals Other People Eventually Got Sick Of
Jeff Kruse / Scott Bricher
411 - Nov 2001
Cents-Less Coupons
Scott Maiko / Irving Schild (photos)
423 - Nov 2002
Cents-Less Coupons
Scott Maiko / Scott Bricher /
Irving Schild (photos)
427 - Mar 2003
The Employing Guise
Jeff Kruse / Irving Schild (photos) /
Ray Alma and Timothy Shamey
428 - Apr 2003
Cents-Less Coupons
Scott Maiko / Scott Bricher /
Irving Schild (photos)
433 - Sep 2003
Pizza Trough
Scott Maiko / Scott Bricher
456 - Aug 2005
Cents-Less Coupons
Scott Maiko / Irving Schild (photos)
460 - Dec 2005
T.G.I. Fried-Day's Menu
Dave Croatto / Irving Schild (photos)
468 - Aug 2006
Foolastic Book Club
Dave Croatto /
Scott Bricher and Gary Hallgren
474 - Feb 2007
Stankee Candle Spring Catalogue
Teresa Burns Parkhurst/Scott Bricher /
Irving Schild (photos)
475 - Mar 2007
Not So Hot Topic Catalog
Scott Maiko / Irving Schild (photos) /
Albert Crudo (styling)
484 - Dec 2007
MOMA - The Museum of Monkey Art - Winter/Spring Catalogue
/ Hermann Mejia, Roberto Parada,
Richard Williams, James Warhola
488 - Apr 2008
Bananas Republic
Scott Maiko / Leonardo Rodriguez
488 - Apr 2008
A-Hole Foods Market
Kiernan P. Schmitt /
490 - Jun 2008
Sucker City
Scott Maiko / Scott Bricher
492 - Aug 2008
Stuples Catalog
Jeff Kruse / Scott Bricher
494 - Oct 2008
Pestco
Jeff Kruse /
504 - Aug 2010
Bored Bath & Be Gone
Jeff Kruse / Scott Bricher
510 - Aug 2011
Banana Republican
Frank Santopadre / Scott Bricher
514 - Apr 2012
Hazard Fraught Tools
Scott Maiko / Scott Bricher
515 - Jun 2012
Enchanted Lake Storytown Forest
Scott Maiko /
Scott Bricher and Gary Hallgren
517 - Oct 2012
Gangreens
Jeff Kruse / Scott Bricher
520 - Apr 2013
Silliams-Wonoma - The Catalog For Kooks
Scott Maiko / Scott Bricher
523 - Oct 2013
Sports Atrocity
Jeff Kruse / Scott Bricher
527 - Jun 2014
Banana Republican - 2016 Campaign Collection
Frank Santopadre and Evan Waite /
Scott Bricher
539 - Jun 2016
The Official Stormtrooper Recruitment Pamphlet
David Richards / Hermann Mejia
540 - Aug 2016
Overgrowth - The Gigantic Gardening Catalog
Jeff Kruse / Scott Bricher
547 - Oct 2017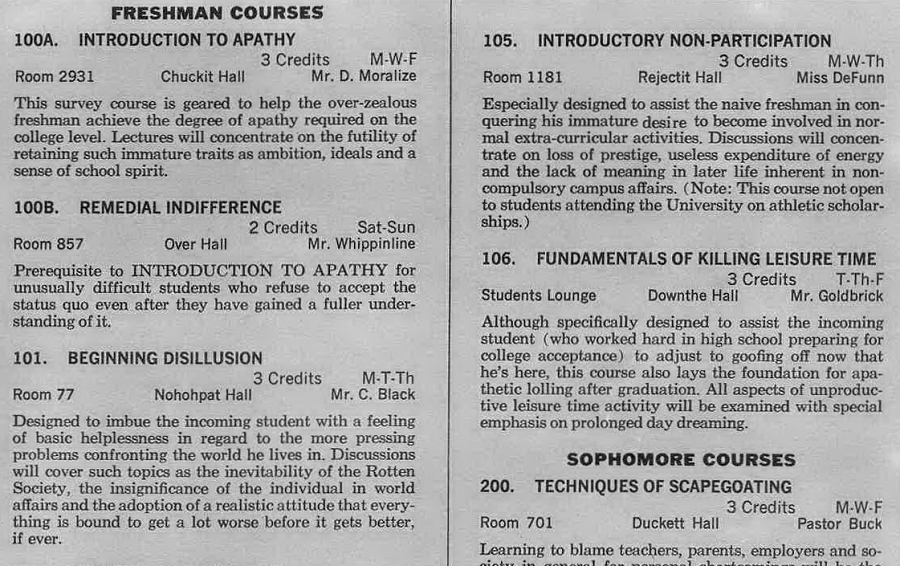 excerpt from College Programs to Develop Masters of Mediocrity - from #101 - March 1966