Reply to Issue #410 to send a photo of yourself with a copy of Mad standing next to a
tombstone (or plaque if they'd been cremated) of a famous person. If your picture was run,
you got a free one-year subscription to Mad. If the person whose grave was featured
in the issue held, you got a free three-year subscription.

NOTE: The only person to get the three-year subscription
posed with a copy of #119 next to Bonnie and Clyde.
| FEATURE TITLE | INTERRED PERSON | ISSUE / DATE |
| --- | --- | --- |
| Mad Cemetery Snaps | (initial photo request) | 410 - Oct 2001 |
| Cemetery Snaps Unearthed | Colonel Sanders | 415 - Mar 2002 |
| Cemetery Snaps | Joseph McCarthy | 416 - Apr 2002 |
| Mad Cemetery Snaps | Randy Rhoads | 419 - Jul 2002 |
| Mad Cemetery Snaps | Frank Sinatra | 421 - Sep 2002 |
| Mad Cemetery Snaps | Babe Ruth | 422 - Oct 2002 |
| Mad Cemetery Snaps | Jim Morrison | 426 - Feb 2003 |
| Mad Cemetery Snaps | John Fitzgerald Kennedy | 431 - Jul 2003 |
| Mad Cemetery Snaps | Al Capone | 433 - Sep 2003 |
| Mad Cemetery Snaps | Eliot Ness | 433 - Sep 2003 |
| Mad Cemetery Snaps | Mark Twain | 437 - Jan 2004 |
| Mad Cemetery Snaps | Marilyn Monroe | 442 - Jun 2004 |
| Mad Cemetery Snaps | Bonnie Parker | 444 - Aug 2004 |
| Mad Cemetery Snaps | Clyde Barrow | 444 - Aug 2004 |
| The Last Mad Cemetery Snaps | John Wilkes Booth | 451 - Mar 2005 |

Compiled by John R. Racano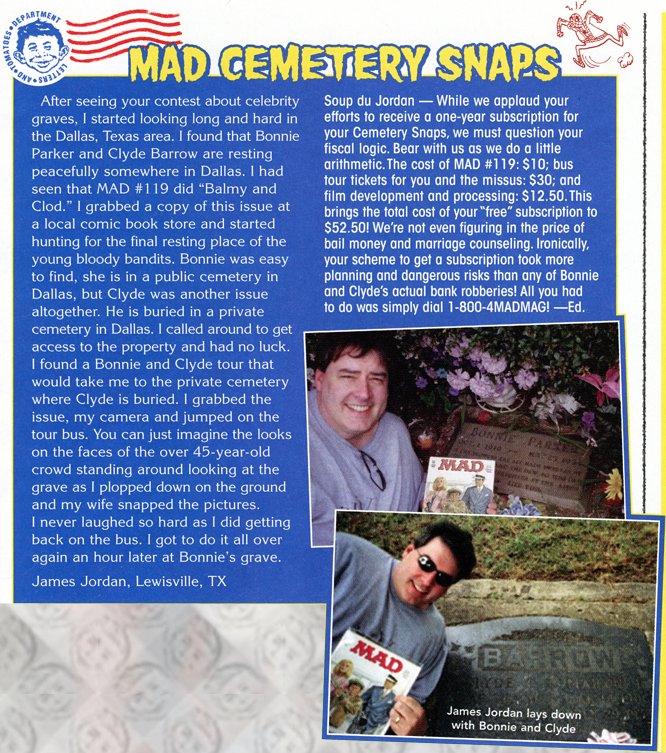 Mad Cemetery Snaps - from #444 - August 2004