Mad's Cradle To
Grave Primer - 1973
Written by: Larry Siegel
Cover and Interior Artist: George Woodbridge


Known printings: Warner 8


---

Chapter 1 - Infancy
Chapter 2 - Childhood
Chapter 3 - Adolescence
Chapter 4 - Adulthood
Chapter 5 - Middle Age
Chapter 6 - Old Age

From the back cover:
This is another MAD Paperback book.
It is the 62nd MAD Paperback book.
Milk, MAD, milk!
It is in the form of a Primer.
Innovate, MAD, innovate!
It is the story of a clod
From the day he is born
'Til the day he dies.
A lifetime of misery.
Just like the one you're leading!
Except for one thing.
It's written funny.
It's drawn funny.
It costs 75¢.
That's not so funny!
But we've got to live, too.
Misery is expensive these days!
Click cover for larger view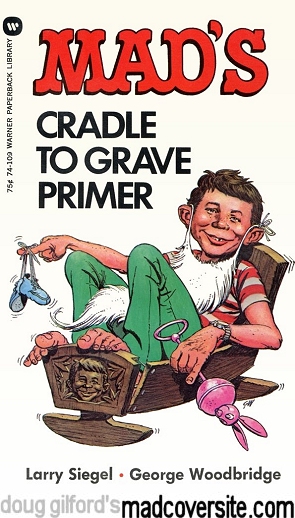 See more variations at
The Mad Museum
.