The Mad Book of Magic
and Other Dirty Tricks - 1970
Artist and Writer: Al Jaffee


Known printings: Signet 8 / Warner 6


---

Introduction
Dedication
Foreword: Nick Meglin
Simple tricks for simple clods or...
You can't cheat an honest man and yet we got 60¢
out of you for this book. Think about that, dum dum!
Introducing "The Great Bumbleoni" or
If you're going to do something wrong, do it right!
More simple tricks for less simple clods or
What to do until the locksmith comes
The incredible "Iron Stomach Man" or
A tough act to swallow
"The Great Bumbleoni" gestures hypnotically or
Slay it with flowers
Advanced tricks for simple clods or
The hand is quicker than the wrist
A magician's guide to hecklers, doubters and other vermin
The Great Bumbleoni's magic lamp trick or
What a way to glow
Advanced tricks for advanced clods or
Put a tiger in your turban
Ridiculous riddles, pointless puzzles, and ghastly games or
Fun for the whole family
Trick shots for little shots or
Gun for the whole family
More (Yecch!) advanced tricks for advanced clods or
In advance of more advanced mysticism that would certainly prove too advanced for you if we hadn't prepared you for the big time, so well in advance
The scathing knife-throwing trick or
Stuck again
The Great Bumbleoni's unforgettable memory feat or
or or or or... er... or or...
The impossible camel trick or
The most unheard of thing you ever heard of!
Phantastic phenomena or
Phun phor the whole family
In a vast nationwide pre-publication poll,
this chapter was by far the most popular one in the book.
At last the last of (yecch!) advanced tricks for advanced clods or
For a real dirty trick, do something nice to a masochist
The Great Bumbleoni's last stand or
Aren't you glad this is the final chapter in the book?
We certainly are!
1970 printing - Click cover for larger view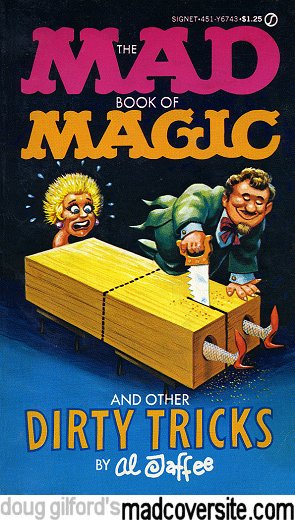 Image: John H. Wilson