The Mad Book of Revenge - 1976
Written by: Stan Hart
Cover and Interior Artist: Paul Coker, Jr.


Known printings: Warner 5


---

Revenge Is Sweet
You Know You're Being Tormented When...
Astrological Forecast I
More Revenge Is Even Sweeter
Academy Award For Tormentees
The More Revenge The Better
Torment Primers
Astrological Forecast II
You Can't Have Too Much of a Good Thing, So More Revenge
The Tormentor Hall Of Fame
Astrological Forecast III
It's Academy Awards Time Again
Seasonal Torments
Don't Look Now, But We Got More Revenge For You
Torments By Mail
"Hey, Kids, How About More Torment Primers?" "Big Deal!"
A Day in the Life of a Tormentee
"How About More Revenges?" "Who Cares!"
"These Are The Last Torment Primers You'll Have To Read..."
"Who Read The Others?"
"Okay, No More Nice Guy! Isn't It About Time You Bought This Book?" "No, It Didn't Hold My Interest!"
Click cover for larger view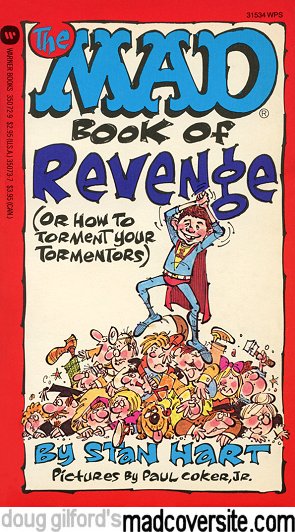 Pictured is the 1988 edition...
See other variations at
The Mad Museum
.