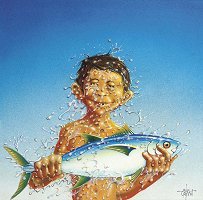 Click Alfred for larger view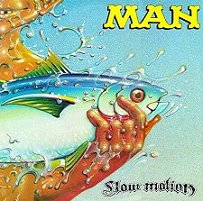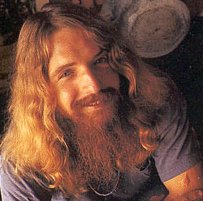 Christie's, London auctioned off Rick Griffin's original
The Baptism of Alfred E. Neuman October 3, 2002.
Best known for his psychadelic illustrations on posters, comics and album covers from the 60s, 70s and 80s, Rick was hired to produce album cover art for Slow Motion, the 1974 album by Welsh rock band, Man. Rick came up with this beautifully strange image of Alfred holding a fish with slow-motion water droplets splashing everywhere. Before the artwork could make it to the album, record company executives assumed there would be copyright issues and nixed the idea as a misuse of Alfred's image. A severly cropped version was allowed with the groups name, Man, written in Mad-like lettering. Rick died in 1991 in a motorcycle accident. His rarely seen representation of Alfred in all its psychadelic glory was expected to fetch between 4000 to 6000 British pounds (that's around 6000 to 9000 US dollars).

It brought in a very respectable 3500 British pounds (approximately $5500 US dollars) hammer price.

Official information from Christie's Helen Bailey:
Pop Memorabilia sale, 3 October, 2002, Christie's London, at 10.30AM
Lot 33
Rick Griffin/Man
The Baptism of Alfred E. Neuman, 1975
airbrush and gouache, original conceptual artwork by Rick Griffin, signed, for an album cover Slow Motion for the 1970s Welsh psychedelic band Man -- 12x12in. (30.5x30x5cm.), mounted and framed, overall measurements -- 17.1/2x17.1/2in. (44.5x44.5cm.); and corresponding artwork by Rick Griffin, signed, for the album titles and border, black ink and gouache on paper -- 12x12in. (30.5x30.5cm.)
£4000-6000

More information on Rick Griffin, the band Man and a Wikipedia entry.