What, Me Latin?
Paul,
This is a really excellent question, but I forgot what I learned in my 3rd-grade Latin class!
So I looked for a good Latin translator on the net and found Luciano Nardone's site for help at: www.italatin.com/.
He was kind enough to answer the question at no charge: "What, Me Worry?" translates into "Quid, me anxius?" Then it hit me like a ton of useless Roman columns!
Mad had a translation on the cover of issue #65.
But there was a minor difference with the word "Sum" on the end. I asked Luciano if it mattered and got the following response:
"Quid, Me Anxius Sum?" is a question you ask to yourself >> "What, am I worried?"
"Quid, Me Anxius?" is the answer we give to somebody who has told us we are worried about something >> "What, do you say I am worried?"
Both sentences are perfectly acceptable. Only the point of view is different.
I think the first case with the "Sum" most fits Alfred's point of view, proving once again the accuracy and value of Mad as an educational resource. Thanks Luciano!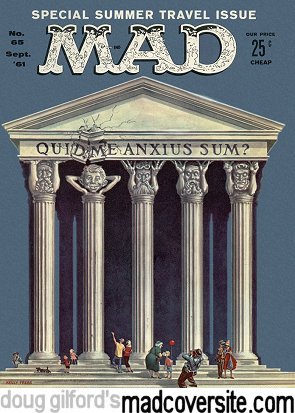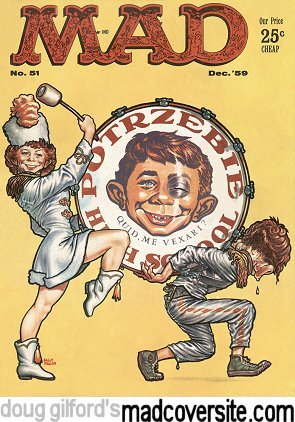 And thanks to Jonothon for pointing out that "the Latin translation first appeared on the cover of issue #51, inside of the drum under the Alfred portrait."

It's a little different than the other cover, however:
"Quid, me vexari?"

Luciano?

"Quid, Me Vexari?" is the question we ask to somebody we love and care about, but is not listening to our advice, "What, are you going to let me worry?"

OK, I get it now... I think.