A Meandering Melee of Moronic Monkey Mayhem
Mad has had a love affair with simians. Publisher William Gaines was a big King Kong fan.
The regular issue covers below are Mad's most obvious examples of monkeying around.
J. Fred
Muggs
Scare
Crow
Classic
King
Kong
Gun
Plugger
Organ
Grinder
Planet
of the
Apes
1970's
King
Kong
Darwin's
B-Day
King
Kong
2005
Pirate
Monkey
The
"Staff"

Not so obvious are a few obscure border references.
An early group of issues (#27 through #30) had non-evil seeing, speaking, hearing - political monkeys.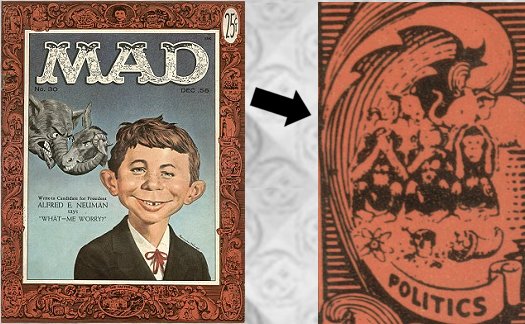 Much later in #357's border was what a French King Kong might look like.



Thanks to Josť for the question suggestion.