The Mad Pet Book - 1983
Artist and Writer: Paul Coker, Jr.


Known printings: Warner 3


---

Dedication to "Pup" - 1967-1980
Choosing Your Pet

"A random examination of some possibilities and impossibilities for you to ponder."

Housing Your Pet

"This section covers details that the American Institute of Architects and the American Society of Interior Designers consider absurd."

Your Pet's Diet

"From nouvelle to not-so-nouvelle cuisine. A low cholesterol look at food for your pet that both Craig Claiborne and Julia Child have found to be disgusting."

Training Your Pet

"Various ways to teach your pet the benefits of being a good citizen. Methods that, to even the cleverest pet, will be completely incomprehensible."

The Health of Your Pet

"Some suggestions that should help you recognize and deal with various common pet problems. A guide you will find to be complete and useful for all occasions unless of course he's sick."

Some Final Obfuscations

"Wherein the author tries to fill the remaining pages with something mildly amusing - at last."
Click cover for larger view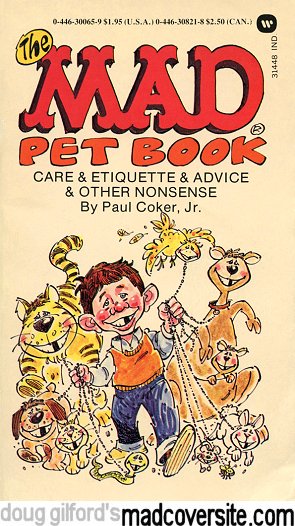 See other variations at
The Mad Museum
.